Hoping to get a card that allows you to enjoy discounted perks of traveling, grocery shopping, and doing some other things? There are several options to consider but your choice needs to be well informed.
The possibility of getting cash back is one of the benefits that some of these cards offer. You can check here to find out some other benefits of having them. Speaking of the several options on the market, names like the American Express Gold (Amex Gold) and the Chase Sapphire Preferred cards are quite common. They have remarkable features as well as shortcomings that you should be aware of.
Knowledge of these things will ensure that you make the right choice if you have to choose between both of them. This article addresses some things to know about both cards in the spirit of ensuring that your choice is well-informed.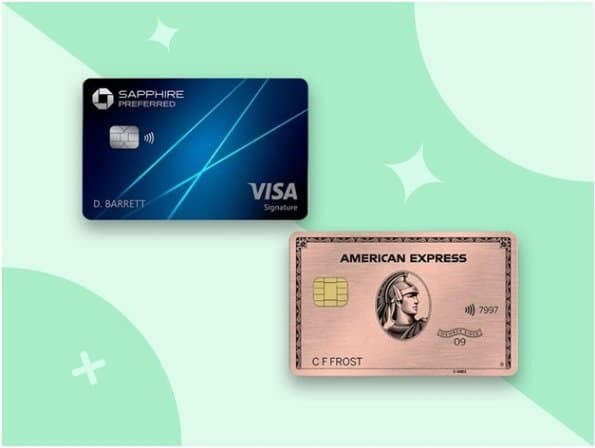 Comparison of American Express Gold and Chase Sapphire Preferred
First of all, you need to understand that neither of them beats the other hand down. They both have their highs and lows. This means that there are areas where one is better than the other.
The key to making the right choice is to understand their pros and cons and then choose one that suits you the most. That eventual choice of yours might not be as well-suited for another person. This is because of our varying needs. Having made this clear, below are a few ways that we compare what both reward credit cards have to offer:
Annual Fees
The American Express Gold card has a higher annual fee compared to the Chase Sapphire Preferred card. While the latter requires an annual fee of ninety-five dollars, Amex Gold is more than double that amount at 250 dollars.
This massive difference in annual fees is a let-off for some people considering Amex. There is no doubt that it offers several perks that you may find useful. However, you would need to hand over 250 dollars every year.
So, it feels like the Chase Sapphire Preferred card is a better choice going by this alone. However, the annual fee that a card command is not enough to judge whether it is worth it or otherwise.
Welcome Offers
When doing the Amex Gold vs Chase Sapphire Preferred comparison, the subject of welcome offers can be quite tricky. The reason is because of what is considered standard welcome offers and the eligible time frame for qualifying for the bonuses up for grabs.
Both cards offer 60,000 points as their welcome offer for new cardholders. However, this is more of a standard welcome bonus for Chase Sapphire preferred. For Amex, this is a bonus increase from the previous 35,000, which is actually the standard point.
However, do not be too quick to crown Chase Sapphire preferred as the best for this reason. This is because the American Express Gold card has a more realistic time frame for being eligible to access these points.
While Chase Sapphire Preferred expects that you make purchases of 4000 dollars in your first 3 months to be eligible, it is 6 months for American Express Gold cardholders. The latter feels like a more reasonable timeframe to be eligible for the welcome bonus.
Fees for Foreign Transactions
Many international travelers like the idea of using the Chase Sapphire Preferred card. One of the major reasons for this is that no fees are required for carrying out foreign transactions.
That is not entirely a certainty with Amex Gold as some cardholders may have to pay foreign transaction fees. So, you might want to take this into serious consideration when deciding which of these reward credit cards to choose.
Redeeming Points
Points can be redeemed using the various approved channels for doing this. The Chase Travel Portal is the approved channel where Chase Sapphire preferred cardholders can redeem their points. Amex Gold travel points can be redeemed via Amex Travel.
There is also the possibility of redeeming points in the form of cashback. However, this option presents a lower rate.
As it concerns point redemption, the Chase Sapphire Preferred card is a bit higher than the Amex Gold. For instance, one cent is the equivalent of a point with Amex Gold. You get an additional 0.25 cents if it is Chase Sapphire preferred. That means 1.25 cents is equivalent to one point with Chase Sapphire preferred.
As mentioned earlier, redemption with cashback reduces these rates. With Amex Gold, 0.6 cents are equivalent to one point. On the other hand, one cent is equivalent to one point with Chase Sapphire preferred.
Conclusion
There are pros as well as cons of these credit cards. Wise use of these cards will ensure that you avoid most of their drawbacks. If you would like to know some of these drawbacks and even the benefits, you can visit: https://www.streetdirectory.com/.
Choosing the right one is an important step in the wise use of reward credit cards. Bearing this in mind, you should take note of this article that compares two popular options and makes informed decisions going forward.