Most of us know Ian Somerhalder for his killer looks and his acting in "The Vampire Diaries." However, we know you are curious to know more about your favorite star. Currently, he has a net worth of 12 million dollars, thanks to his successful acting and modeling career. Read along to know how Ian built his career, how he achieved stardom and became such a household name.
Early Life
On 8th December in 1978, Ian Somerhalder was born. He was born and raised in a city called Covington in Louisiana. Ian is the son of Edina and Robert Somerhalder. Edina was a massage therapist, and his father, Robert, was an independent building contractor. He has two other siblings, his older brother is named Robert after their father, and his younger sister is named Robyn.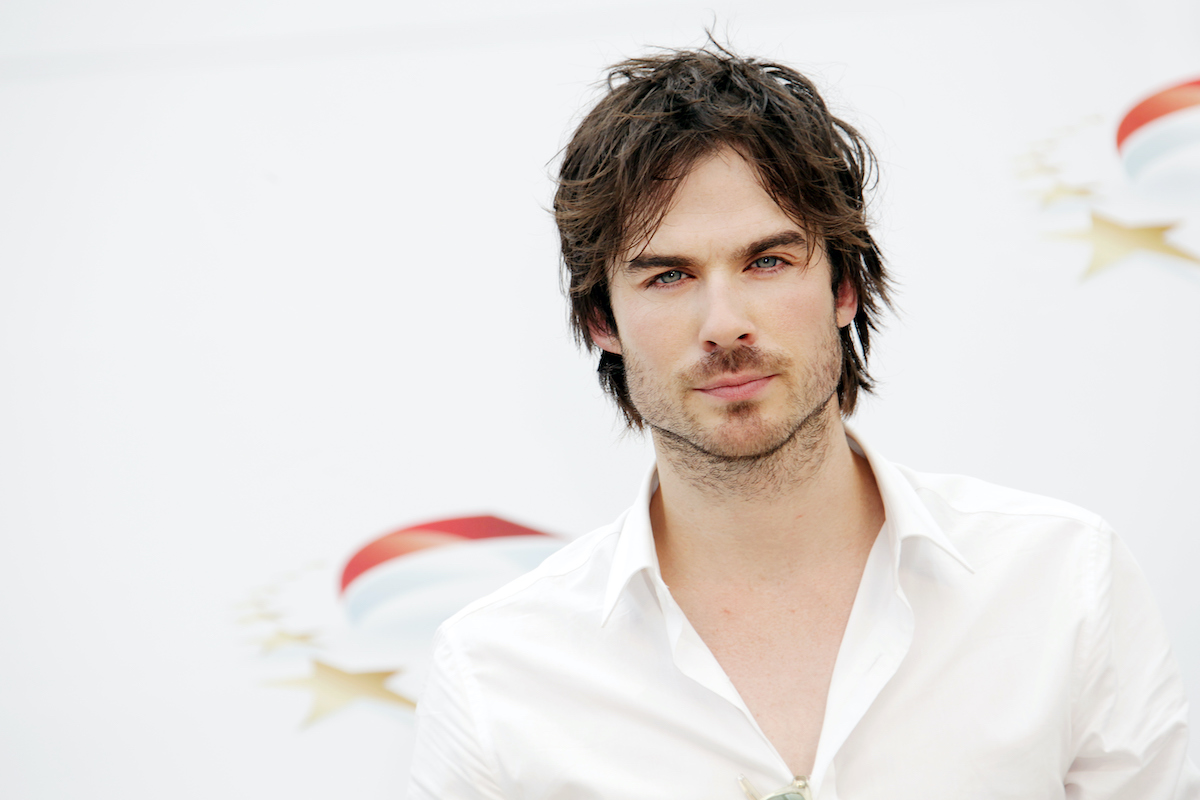 Ian was a very ordinary boy as a child. He had simple interests like horseback riding and fishing with his father and brother. Moreover, he was a member of the local drama club. As a young boy, he went to Saint Paul's School in Covington. It was a private all-boys school. Nevertheless, young Ian was more than just a simple schoolboy.
At the age of 10, Ian Somerhalder started his career as a model. When Ian turned 13, Edina took him to a summer conference. That conference was for young models and actors, and it was held in New York. Of course, due to his handsome looks, the conference holders noticed him at once.
Finally, he started working for famous fashion houses. At the age of 15, he was doing commercials, clothing modeling for big names.
In spite of his successful modeling career, Ian wanted something more from life. That's when he decided to begin his journey as an actor at the young age of 17. After his graduation, Ian entered the William Esper Studio and moved to New York. The William Esper studio is known as one of the finest acting schools in the US. It has a strong alumni network of powerful actors. Actors like Sam Rockwell, Kim Basinger, had graduated from there.
Read More KhatiraRafiqzada Bio, Wiki, Wife, Ethnicity, Son and Body Measurements
Career of Ian Somerhalder

Ian Somerhalder had a small debut role. His first noticeable role was in a WB series called "Young Americans." He played the role of Hamilton Fleming. However, he acted there for a very short time. Yet, Ian did not break down. He worked harder and ultimately got his breakthrough act in 2004.
Ian Somerhalder in Lost
Ian Somerhalder had his first breakthrough role in the ABC drama series "Lost." There he played the role of Boone Carlyle and successfully turned himself into a serious actor. Although in "Lost," Ian acted in only twenty episodes, yet those few hours were enough for him to gain attention. People from all over the world loved his acting skills in the series. His character was intense as well as mature, and Ian perfectly portrayed him. In a 2005 interview, Ian described "Lost" as the "greatest experience."
Stories of Ian Somerhalder in The Vampire Diaries
History of Stefan and Damon Salvatore
Ian Somerhalder is the Vampire Diaries star who became quite popular while working for the show. The series ran back to back from the year 2009 to 2017. Therefore, it all started in the year 2009. When they released Vampire Diaries for the first time, everyone understood that it would be quite a hit. Thus, so it was. The first season became so famous that the director did not stop releasing it until the eighth. In the series, speaking about the show's main leads, Ian Somerhalder is one of them. Moreover, Paul Wesley and Nina Dobrev are the show's other main leads.
In this series, Ian Somerhalder plays the role of Damon Salvatore perfectly.
However, the role of Somerhalder involved an evil as well as a decent character. Therefore, basically in the series, Damon Salvatore is a Vampire. Hence, Ian and Paul's obsession for Katherine Pierce, played by Nina Dobrev, led them to become vampires. Whereas Nina played the role of Katherine Pierce, both Stefan and Damon were madly in love with her. However, Katherine only loved one of them, and that was Stefan. But she also pretended to love and care for Damon. This left both the brothers plunged in love with her. Though Nina Dobrev played several other double roles, being the doppelganger, her character of Katherine was very cruel.
How did Katherine's relationship with both the brothers turn out?
Katherine played mind games with both the brothers. However, Katherine was a vampire when neither anyone else in the town was. She came to live for a short while among the brothers. She had other Vampire friends as well who fed on the blood of innocent people. However, the Salvatore brothers were unaware of her and her friends' disposition.
Moreover, the townies, too, started becoming afraid when they discovered such brutal animal attacks. They, too, did not know that it was the work of the vampires. Hence, one day the doubts became perhaps evident. The townies made up a plan of killing all the vampires at once.
Everyone knew that for vampires, vervain is toxic and lethal. It acts as a poison down their throat. This is how they caught Nina Dobrev, a.k.a Katherine too. The townies decided to round them up in a church and burn the church to the ground. Therefore, their plan almost succeeded only except that Katherine somehow escaped.
Neither of the brothers was aware that she had run. However, both Paul and Somerhalder died saving her but came back as vampires instead. Therefore, they became vampires because they had the vampire blood of Katherine in their system. But Somerhalder and Paul Wesley both grieved at the loss of their love.
Life of Ian Somerhalder as Damon Salvatore after he knew Katherine was dead
Ian Somerhalder, or Damon Salvatore, and his brother continuously went on and off the rails after her loss. They made several mistakes for years after that. While Paul slaughtered an entire village and became the ripper, Ian Somerhalder became as bad as he could too. Somerhalder, too, went on a killing spree. Murdering innocents and drinking their blood had become their bedtime hobby. However, the death of Katherine often haunted Damon, a.k.a Ian Somerhalder. Therefore, Ian joined the army instead to distract him from reality.
The reaction of Ian Somerhalder(or Damon Salvatore) in the series after he knew Katherine was alive
However, one knew this much after reading the bio that vampires are immortal. In other words, they can live forever. Therefore 169 years later, Ian Somerhalder realized that Katherine is alive in flesh and blood. She appeared before Damon, Elena Gilbert, kissing Ian on the porch as he was then in love with Elena. However, her trick did not work this time as Stefan figured that it was not Elena but Katherine Pierce indeed. Thus, after a few days, Katherine crossed paths with both the brothers again after years.
Stefan and Elena were in a relationship back then. However, since Elena too looked precisely like Katherine Pierce, Damon or Ian Somerhalder fell for her. Though Elena initially never felt the same way as he did. However, Ian found out that Katherine never truly loved him. She did his brother instead. Thus, he went off the wagon once again.
Ian Somerhalder or Damon Salvatore's character towards the end of the series
After constant on and off the wagon of Damon Salvatore, aka Ian Somerhalder, he finally became decent in the end. It was when Stefan sacrificed his life and ended the great Katherine Pierce once and for all. Before dying, he made Ian, human. Hence, Ian finally played a good and decent character in the end, loving and caring for everyone. Therefore, he spent the rest of his mortal life with his girlfriend, Elena Gilbert, also human.
Brothers Bond Bourbon
One thing which still has no died is the friendship between Ian Somerhalder and Paul Wesley. Their bond thus became stronger after playing brothers' roles in the decade-long Vampire Diaries series. Ian and Paul also drank on and off the show quite several times. Therefore, both of them introduced the before us, the Brother's Bond Bourbon whiskey with a mixture of various flavors. This represents their bond of love and friendship over the past few years.
Other Notable works
Apart from modeling and his role in Vampire Diaries, Ian Somerhalder has done a number of other notable films and series. Some of them are The Rules of Attraction, Time Framed, and V Wars.
Achievements Of Ian Somerhalder

No doubt, Ian Somerhalder is an excellent actor and thus has achieved numerous awards. He has won a number of Teen's Choice Awards and People's Choice Awards for "Vampire Diaries" and "Lost." Apart from acting, he has also received the EMA Future's Award for his work as an activist.