Dubai, a captivating blend of modern marvels and cultural treasures, offers a plethora of exciting places to explore with kids. From world-class theme parks to enchanting wildlife encounters, Dubai promises an unforgettable family adventure. Start at Dubai Aquarium and Underwater Zoo, where little ones can marvel at marine wonders. Then, venture to Dubai Miracle Garden, a floral paradise that ignites imagination.
Unleash creativity at OliOli, an interactive children's museum, or let imaginations run wild at KidZania, a miniature city for kids to role-play various professions. Dubai's unique charm and array of child-centric attractions create an enchanting playground for families to enjoy together.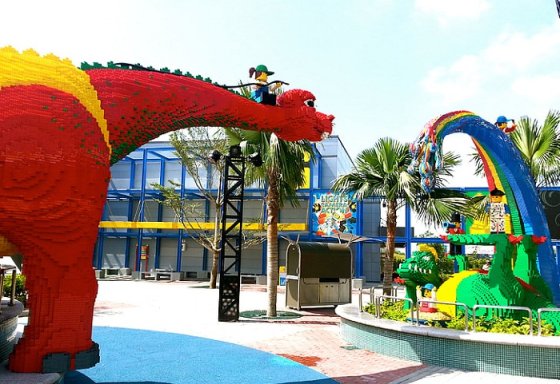 1. IMG Worlds of Adventure
IMG Worlds of Adventure, a colossal indoor theme park in Dubai, is a thrill-seeker's paradise. Spanning four epic zones – Marvel, Cartoon Network, Lost Valley Dinosaur Adventure, and IMG Boulevard – it hosts a captivating array of rides, attractions, and entertainment. From spine-tingling roller coasters to interactive experiences with iconic characters, the park promises an exhilarating journey. To embark on this adventure, book your IMG Worlds of Adventure ticket and immerse yourself in a world of fantasy, excitement, and endless fun for all ages.
2. Garden Glow
Garden Glow, a mesmerizing spectacle in Dubai, transforms ordinary nights into enchanting wonderlands. This illuminated extravaganza blends nature and art through captivating light installations, bringing gardens to life with vibrant colors and imaginative designs. The experience is a treat for all ages, combining creativity and nature in a magical fusion. To witness this radiant marvel, book your Garden Glow tickets and immerse yourself in a world of illuminated beauty, where fantasy and reality converge for an unforgettable evening of awe and inspiration.
3. KidZania Dubai
KidZania Dubai, a captivating edutainment destination, invites children into a world of imaginative play and real-life experiences. Nestled within The Dubai Mall, this mini metropolis empowers kids to role-play various professions, from doctors and pilots to chefs and firefighters. Through hands-on activities, youngsters learn essential life skills, financial literacy, and teamwork while having fun. KidZania's detailed replicas of real workplaces and its emphasis on creativity make it an engaging and educational haven. Offering a safe and dynamic environment, KidZania Dubai sparks curiosity and fosters a sense of independence, making it a must-visit for families seeking both entertainment and enrichment.
4. Dubai Dolphinarium
The Dubai Dolphinarium is a captivating aquatic haven nestled in the heart of Dubai Creek Park. Renowned for its engaging shows and interactive experiences, this marine attraction offers a unique opportunity to witness the intelligence and agility of dolphins and seals up close. Visitors can enjoy an array of entertaining performances featuring these incredible creatures, as well as educational presentations that shed light on marine life conservation. Beyond dolphin and seal showcases, the Dubai Dolphinarium offers a range of marine-related activities, including swimming with dolphins. This family-friendly destination not only entertains but also fosters a deeper appreciation for marine ecosystems, making it a memorable and enlightening experience for all ages. To embark on this aquatic adventure, secure your Dubai Dolphinarium tickets and prepare for a day filled with wonder and marine enchantment. 
5. Dubai Aquarium & Underwater Zoo
The Dubai Aquarium & Underwater Zoo is a captivating aquatic wonderland located within the iconic Dubai Mall. It boasts one of the world's largest suspended aquarium tanks, home to a mesmerizing array of marine life. Visitors can stroll through a mesmerizing tunnel that offers panoramic views of sharks, rays, and colorful fish swimming above and around them. The Underwater Zoo complements the experience, featuring a diverse collection of aquatic creatures, from penguins and otters to crocodiles and giant spiders. Beyond its stunning exhibits, the Dubai Aquarium & Underwater Zoo offers educational insights into marine conservation and ecosystems, making it an engaging and enlightening destination for families and curious minds alike. To embark on this underwater exploration, secure your Dubai Aquarium & Underwater Zoo tickets and dive into a world of aquatic enchantment.
6. Ski Dubai
Ski Dubai, an exhilarating winter wonderland nestled within Mall of the Emirates, defies the desert surroundings with its snow-covered slopes and frosty landscapes. This indoor ski resort offers year-round skiing, snowboarding, and snow play, inviting visitors to experience the thrill of winter sports in the heart of Dubai. From beginners to seasoned enthusiasts, Ski Dubai caters to all skill levels with its various slopes and engaging snow activities. With penguins to meet, chairlifts to ascend, and snow caverns to explore, Ski Dubai transforms the desert city into a snowy paradise, making it an extraordinary and unforgettable escape from the ordinary.
7. Legoland Dubai
LEGOLAND Dubai, located within Dubai Parks and Resorts, is a whimsical world of creativity and fun for families and LEGO enthusiasts. This vibrant theme park is designed with colorful LEGO bricks and offers a plethora of interactive rides, attractions, and live entertainment for kids of all ages. From exhilarating roller coasters to imaginative play zones, visitors can embark on captivating adventures, build, and explore in a world made entirely of LEGO. The park's engaging Miniland showcases iconic landmarks of the Middle East crafted with meticulous attention to detail. LEGOLAND Dubai sparks imagination and encourages learning through play, making it a joyful and educational destination that delights both children and parents.
8. Dubai Miracle Garden
Dubai Miracle Garden, an enchanting floral oasis, blooms amidst the desert landscape, captivating visitors with its vibrant and intricate displays. Sprawled across vast acres, this seasonal masterpiece showcases millions of flowers, meticulously arranged into stunning patterns, shapes, and sculptures. From heartwarming heart arches to life-sized peacocks, the garden transforms into a breathtaking realm of color and creativity. Open during the cooler months, Dubai Miracle Garden offers a surreal escape into a world adorned with nature's beauty. With its ever-evolving designs and thematic installations, it's a captivating destination for all ages to stroll, admire, and immerse in the sheer wonder of nature's artistry.
9. Aquaventure Waterpark
Aquaventure Waterpark, nestled within Atlantis, The Palm resort, is a thrilling aquatic paradise that promises an unforgettable day of adventure and relaxation. With its towering slides, lazy rivers, and exciting wave pools, Aquaventure offers an array of water-based attractions suitable for visitors of all ages. The heart-pounding Leap of Faith slide and the mesmerizing Shark Safari provide unique experiences, while the Splashers' Children's Play Area ensures young ones have a blast. The park's centerpiece, the Tower of Poseidon, offers panoramic views and exhilarating slides. Whether seeking adrenaline rushes or family fun, Aquaventure Waterpark promises a splashing good time against the backdrop of Dubai's iconic skyline and the azure Arabian Sea.
10. Wild Wadi Water Park
Wild Wadi Water Park, situated in the shadow of the iconic Burj Al Arab, is a thrilling aquatic playground that offers a refreshing escape from the desert heat. With a blend of adrenaline-pumping rides and relaxing attractions, it caters to both adventure seekers and families. The park's innovative Jumeirah Sceirah slide, the exhilarating Tantrum Alley, and the meandering lazy river promise an array of experiences. The Breaker's Bay wave pool and Juha's Journey play area provide fun for all ages. Coupled with stunning views of the Arabian Gulf, Wild Wadi Water Park ensures a day of aquatic excitement and leisure against Dubai's mesmerizing coastal backdrop.