In our fast-paced life, where we resort to fast food for convenience purposes, do you want to prioritize your health? Do you want to feel fit and fine by eating, right? Do you want food that is healthy, tasty, and quick to prepare? Well, then you've come to the right place! Egg roti wraps are the solution to all your demands. This is a delicious and healthy recipe that can be consumed at any time during the day.  You can have it for breakfast, lunch, dinner, or brunch. It is very filling and will keep you satiated for a long time. This dish is a well-balanced meal containing carbohydrates, protein, and fibre.
Must Read Creamy Shrimp Pasta Recipe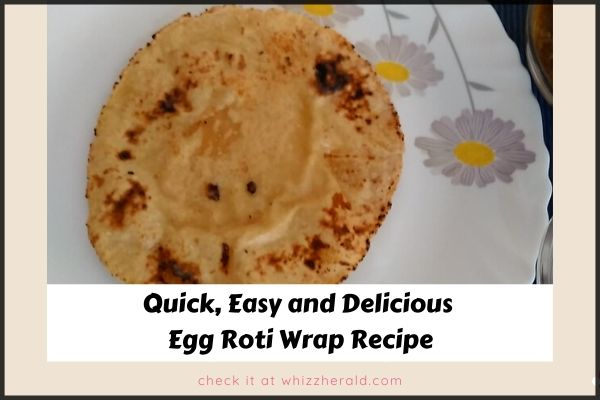 About the recipe
The Egg Roti Wrap recipe has a preparation time of approximately 10-15 minutes. The dish takes about 5-10 minutes to cook. The proportion of the ingredients which will be listed down below will serve approximately 2 or 3 people. If you are a vegetarian or vegan, then don't worry, we've got you covered! You can easily substitute the egg in the recipe with cottage cheese, soybean, or even tofu (for vegans)! In fact, the wraps taste just as good with a selection of your favourite grilled vegetables too!
Ingredients for the Wrap
You will need 3 cups of flour (either atta or maida depending on your preference). You can also do a mixture of either 2 cups of atta with a cup of maida or 2 cups of maida with 1 cup of atta. You will also need water and oil (the quantity of oil you want to add is up to you). You can also add cumin for added flavour and texture. Cumin is also beneficial for digestion, thus amplifying the potent factor of the dish!
How to make the wrap?
The fastest and most convenient way to make the wrap is by using a roti maker. The Rotimatic roti maker truly the hero of this recipe! Using a roti maker will save you plenty of time. It will not only save you time but also spare you from the hassle of preparing each roti from scratch. All you need to do for making the wraps using this roti maker is put all the ingredients in the roti maker and voila! Your delicious wraps will be ready in no time! Make sure that you keep the wraps in a casserole to keep them warm till you start assembling.
Ingredients for the wrap filling
To make the filling of the wrap, you will need about 2-3 eggs. Keep in mind that you will need both the egg yolk (for healthy fats) and the egg whites (for protein) of the 2-3 eggs you will need for wrap filling. Apart from the eggs, you will need about three tablespoons of diced onion; finely chopped coriander (quantity as per your preference) to add that aromatic herbal flavour; a teaspoon of pepper and salt as per taste. When it comes to vegetables, you are free to add whatever vegetables you like. However, for the sake of saving you from decision fatigue, some vegetables that would taste delicious with the eggs and the other ingredients in the wrap filling would be about half a cup of capsicum, half a cup of tomato, half a cup of cucumber and half a cup carrot. To make your wrap very colourful and flavourful, you can also add yellow and red bell pepper. Remember to julienne all the vegetables that you will be adding to your filling. You can also add about a cup of alfalfa sprouts to bulk up your filling. Last but definitely not least, you can also add some lime juice to elevate the flavour of the wrap filling.
Cooking Directions for the filling
Firstly, in a bowl, add the eggs along with the diced onions, salt, pepper, and the finely chopped coriander. Whip the mixture well. Then start chopping the carrots, cucumber, tomatoes, capsicum, and the red and yellow bell pepper. Keep the vegetables aside in a separate bowl. Then, in a hot pan (preferably non-stick pan), add a little bit of oil. When the oil is slightly heated, add a little bit of the egg mixture, which is just enough to layer on top of the roti. If you cannot make a proper disc then don't worry! You can also scramble the egg mixture, and the wrap will taste just as delicious! However, if you've managed to make the mini omelettes, then after they're done, keep them aside in a casserole to keep the omelettes warm till you start assembling. This part of the recipe is totally optional, but if you want, you can even stir fry the vegetables in some soya sauce that you had chopped up earlier!
Assembling the Wrap
After the wraps and the filling have been prepared, place the wrap first. Then add one mini omelette on top of the roti. Place the vegetables on top of the omelette, in the middle of the wrap. Make sure that you do not overfill the wrap with vegetables. Overfilling the wrap will make rolling the wrap a complicated, time consuming, and messy process, and we don't want that now, do we? After you've added you're raw or stir-fried vegetables, add some salt and pepper as per taste and squeeze some lime juice. After squeezing the lime juice, you can finally roll up the wrap. There you go, delicious and healthy eggs roti wraps ready to eat!
Benefits of using a roti maker
Using a roti maker to make the wraps will genuinely save you a lot of time and energy. You don't have to go through the process of mixing, kneading, and rolling out perfect discs (which is absolutely not at all easy). The roti maker will save you from doing all the aforementioned tasks. You will end up saving a lot of valuable time, which can be used in other fruitful ways. More benefits of a smart roti maker can be checked here at Rotimatic review.
In the hustle and bustle of everyday life where we want everything quick and easy, this recipe, especially when made with a roti maker, will provide you with an immense sense of satisfaction of not only prioritizing your health but also the accomplishment of preparing something delicious in under 15 minutes. This is an excellent recipe for all age groups. So go right ahead and try out this recipe!