People return to classic style more and more. Why? Probably, even without living in a classic environment during their childhood, modern people have a genetic memory, the memory of older generations. It can be the screen of a great-grandmother, a mirror in a twisted frame, a handbag with beads, or a painted box.
The classic style in the interior is of interest to people who have achieved stability in life, have already gone through a period of experimentation, and at the same time are able to appreciate the variety of classic details with their complex carvings, various textures, and printed fabrics.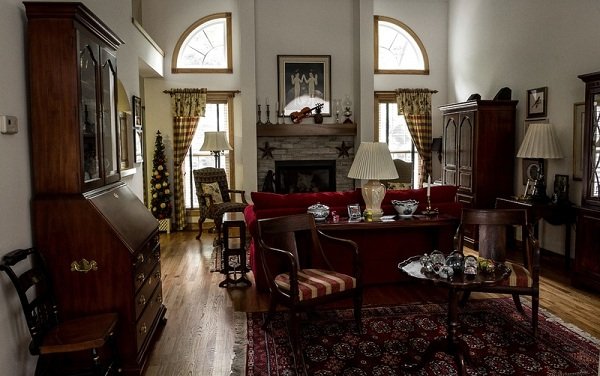 Now that the decision is made, and you will live in a classic interior, where to begin?
1. Inspiration
Flip through books on architectural styles and save a selection of the details you like. It can be columns, arches, plaster cornices, wrought iron gratings, mirrors, fabrics, and more.
2. Help
Find yourself an interior design assistant specialized in classic styles. It will be difficult to do without professional help.
3. Concept
With the help of the designer, you must first of all develop options for layouts with zoning and furniture arrangement.
What was the classic apartment layout of the late 19th – early 20th centuries? As a rule, two entrances led to the apartment – the main entrance and the black one; a corridor, on one side of which the private rooms of family members were located, and on the other – a suite of ceremonial rooms (living room, dining room, fireplace, and others). If you want to repeat a similar option, then you need to focus on the corridor system.
At the stage of planning, you must immediately decide whether you will observe the classic symmetrical layout or stop the "game" on classic details. This is the most important stage, which determines whether the implementation of the project will go smoothly or with constant improvements and alterations. You need to also spend as much time as possible and think over everything a few moves ahead.
The planning decision depends both on the initial appearance of the apartments for rent in Abilene (with external and internal outlines) and on the budget allocated for the implementation.
You can set up the interior thoroughly, with all the elements of the classic style. In this case, it will have to be completed to the end in accordance with the design project. Any flaws in the implementation will make the interior unfinished. You can follow the path of simplification: highlight the main elements in a classic style, and buy simpler furniture and doors, or even acquire some in a modern style.
New York Furniture Outlets can become a perfect instrument that you will use for this purpose.
4. Styles
If you look at the classic styles, you will notice that, over time, they repeat, in the form of more modern ones. In Art Deco, the Empire style is visible, in Art Nouveau, the Gothic style is taken as a basis. Each generation has transformed and supplemented the style that existed long before it, while maintaining continuity and connection. This means that you also have the right to delicately introduce new decisions into the interpretation of your interior. This allows free creativity and does not hinder decision-making.
It is even easier to enter the creative process by coming up with a name for your interior. Historical styles differ from each other by country and area. English classics, French, Scandinavian or Mediterranean have their own characteristic colors. You can call your home "Rest by the Sea" or "House in the Mountains" or "American Estate". This approach will not let you go astray, will help you pay attention to items and finishing materials that are suitable in style, and will save time and effort.
5. Proportions
A very important point. Since classic apartments were built in houses with high ceilings (3.2-4 meters), it must be borne in mind that it will not be possible to transfer the proportions perfectly. You need to invent your own proportions based on the height and layout of your apartment. Accordingly, if the proportions are individual, you need to monitor how ready-made elements offered by manufacturers are suitable for you. Very often, such elements have their own dimensions (such as panels) and may not really be your option. Likewise, prefabricated gypsum or polyurethane ceiling curtain rods have modules that will not converge correctly at the corners of your ceilings. If you want to buy ready-made pieces, it is better to choose them in advance and make suspended two-level ceilings for their sizes and modules. Ideally, of course, it is better to order according to your drawings and modules. But these items tend to be more expensive.
Often, there is a need for additional orders of pieces of furniture that are not produced by the team you have chosen. As a rule, these include bedside tables, consoles or boudoir tables. Be prepared that any manufactured interior details will cost more, but will also make the interior more elegant.
6. Fabrics
When decorating with fabrics, you can follow the path of simplification, when prints become an accent on one product, and other fabrics are subordinate to these prints and are also monochromatic. The main thing is to remember that it is undesirable to use repeats (say, the bedspread and curtains being the same), this gives the interior a cheap hotel look. This requires a lot of attention when working with textures, but makes the interior truly rich, artistically rich.
In terms of color schemes, you need to decide on the main color, starting with the living room and dining room. Warm golden tones, herbal or silvery, and so on. Each room should not stand out sharply from the general range, but delicately flow into one another. The main color code will not let you get carried away by wallpaper or tiles that you suddenly like in a salon.
All materials that you choose should be viewed in natural light and compared with each other. Everything that you match in pieces of samples must look as interesting as you want it to be in the finished interior. This will save you from unnecessary hesitation and doubts in choosing.
7. Lighting
Generally, lighting strongly affects the perception of colors. Before choosing a decor, you need to designate the cardinal points in the apartment. If, say, the living room is located in the southwest, this will require one tonal solution, if in the northeast, a completely different one.
It should also be borne in mind that, in large apartments, there should be several scenarios for turning on the light, and, at the same time, the light sources must be turned on from different points. Before making an electrical project, it is advisable to choose a manufacturer of sockets and switches – somewhere, there may not be electrical equipment for your tasks. For example, there are no underfloor heating regulators in a single frame with switches, or there are no dimmers with pass-through connections, or there are no frames with the required number of sockets.
If the interior is designed in warm colors, it is not recommended to choose lamps with cold light. Moreover, remember that reflected ceiling light, hidden in eaves or multi-level ceilings, will give the room the appearance of height. If you are looking to make your house great looking and modernized, you should invest in the led aquarium light which will never disappoint you. Aquariums that are inbuilt in walls look more attractive and elegant.
A separate topic is modern equipment in a classic interior. If your TV screen is small, there are several options for hiding it. Firstly, there are special pieces of furniture with a built-in pull-out system. Secondly, for a large cinema, we recommend allocating a separate room. For the kitchen, it is better to order large format built in kitchen equipment.
8. Bathroom
If you turn to the classic embodiment of the interior, it is better not to get carried away with semicircular bathrooms. It is advisable to choose the tile in accordance with the style, without making it more catchy than the interior in, for example, the living room. Everything obeys a common idea, without fanaticism.
9. When to consider the interior finished
It all depends on the tasks you set initially. If we're talking about the rigid rules of classic design, everything must be done as stated in the design project or as advised by the designer. Still, there's another option, if you like mixing the interior design styles.
Items can be matched as if you acquired them at different times. Such a mixture of styles makes the interior individual, gives it artistry, and complements it. This is a difficult decision both for understanding and for implementation, requiring a lot of commitment from the designer, the flight of his imagination.
The work on the interior depends on the help of professional caring performers: designers, builders, and managers. This is a great collective work that may lead to a perfect classic style interior to delight your taste and love for beauty.